Apart from his own projects, Alexander Sandi Kuhn is working as a demanded saxophonist and composer in various groups.
Alexander 'Sandi' Kuhn 2011
Being Different
Personality Records

Best of Jazz in Burghausen 2010
Various Artists Vol.4 / DVD
Double Moon Records

Gee Hye Lee 2010
Genious Monday
HGBS

Kühntett 2008
Image of my Soul
Satin Doll Records

Kühntett 2006
The Contemporary Jazz Movement
Satin Doll Records

PAUCKER 2010
Miserable Junkie
Monohausen Records

Lauschleben 2005
WIR
Lauschlabel

Generations Unit 2011
Tease my Shoes
TCB "The Montreux Jazz Label"

Paul Eidner 2009
Digress
Analogsoul


Alexander 'Sandi' Kuhn 2013
The Ambiguity of Light
JAZZNARTS RECORDS

Barbara Bürkle Band 2013
Look for the Silver Lining
Neuklang

Composers Pool Orchestra 2014
Live at Kunstsitftung
Kunststiftung BW
Volker Engelberth Quintet
The Quintet of pianist Volker Engelberth its comprised of five of the finest musicians on the German jazz scene. In 2018, the group released its second album 'Prismatic Colours', which takes the playing of the band to a next level and gives Engelberth a playground to further develop his compositional ideas. For more information please visit www.volkerengelberth.com.
Volker Engelberth (Piano), Bastian Stein (Trompete), Alexander Sandi Kuhn (Saxophon), Arne Huber (Kontrabass), Silvio Morger (Drums)
In the trio 3MANN:Einwort Martin Meixner, Daniel Mudrack and Stuttgart based Saxophonist Sandi Kuhn unite to have a musical dialogue about the music of their past. In the course of this they reinterpret and translate hits of the last decades into their own musical language. If you like pop hits in a groovy and neo-souly remake with a very unique flavor be sure to listen to this band!
Alexander Sandi Kuhn (saxophone), Martin Meixner (organ), Daniel Mudrack (drums)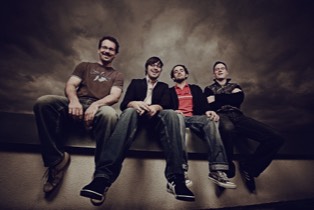 Catchy melodies melt with complex harmonies and sophisticated grooves to a soundscape which attracts and surprises the listener form the first moment on. For more information please visit informationen www.kuehntett.de.
Alexander Sandi Kuhn (saxophone), Christoph Heckeler (piano), Axel Kühn (bass), Marcel Gustke (drums)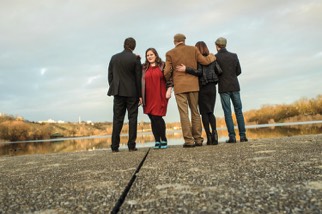 The gentle arrangements and originals of bandleader and vocalist Barbara Bürkle (Thelonious Monk Competition Finalist 2010) bear her very own signature. The great musicianship of her exquisite band members and the energy they create turns her music in a "Gesamtkunstwerk". For more information please visit www.barbarabuerkle.de.

Barbara Bürkle (vocals), Alexander Sandi Kuhn (saxophone), Gee Hye Lee (piano), Jens Loh (bass), Daniel Mudrack (drums)
CPO Composers Pool Orchestra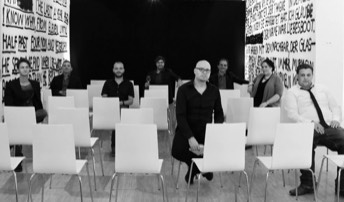 The Composers Pool Orchestra brings together the creativity of a collective of Stuttgart based jazz musicians and composers. The artists contribute to a multi-faceted and colorful musical experience with their very unique and distinct voices as composers and instrumentalists. For more information please visit cpo-music.de.
Anne Czichowsky, Barbara Bürkle (vocals), Alex Bühl, Wolfgang Fuhr, Alexander Sandi Kuhn (saxophones), Eberhard Budziat (trombone), Christoph Neuhaus (guitar), William Lecomte (Piano), Jens Loh (bass), Felix Schrack (drums)
The Generations Unit presents a powerful cocktail of heavy grooves, bouncing bass lines and musical high-altitude flights. James Brown and Dave Holland would probably love it Generations Unit is an international band. The musicians live and work in big jazz cities around the USA and Europe (Berlin, Wien, New York, Zürich and Amsterdam) and bring their diverse musical upbringings to the table to create a fresh, playful and groove-oriented music. For more information please visit www.generationsunit.com.
Adrian Mears (trombone, Compositions), Mario Rom (trumpet)
Alexander Sandi Kuhn (saxophone), Lukas Jochner (trombone), Julius Heise (vibraphone), Christian Pabst (piano), Raphael Walser (bass), Mareike Wiening (drums)

It is not only the shared time in Boston that unites the musicians, but also their enthusiasm and their way of thinking about music. Music is regarded as a means of communication to convey and evoke in a creative way exciting, beautiful, but also thoughtful and sometimes sad emotions.
Alexander Sandi Kuhn (saxophone), Michael Vochezer (guitar), Michel Reis (piano), Axel Kühn (bass), Axel Pape (drums)